Update on 3rd April 2020 about the Holy Week Celebrations
Dear Parishioners
Greetings from SJE!
Julian of Norwich had a lovely way of expressing her sentiments of prayer as a deep longing. The Lord whispered to her, "Behold, I am the Ground of thy Beseeching." Longing for God is something that is put into our hearts by God himself. He infects us with the desire for God more so now as we enter into the holiest moments of the liturgical year. Holy Week is the highest point of our Liturgical Year and yet we are unable to gather to worship as a community due to the peaking of the Covid-19 right around this time of the year.
Despite this "new normal" of living a 'socially-distanced' life we have been blessed to dwell on the positive aspects of life where a new strain of humanity is emerging, a humanity that longs even more for God, a humanity that is caring and reaching out, a humanity that has realized deep in its heart that what affects one, affects us all. It is the very core message of the drama of Salvation. Adam's sin has infected us with the perennial tendency to be selfish while Jesus' sacrifice on the Cross has afforded us salvation.
Please know that I am deeply pained and immensely hurt not to be able to gather you all for these faith- anchoring celebrations of the Triduum. This is a time for choosing hope over despair. "The time for fear is over. Now is the time for hope."
Let us be people of hope. Look to the brighter side of our faith. In the present situation the hope afforded to us is that we can still find ways to pray. People are becoming creative in finding new ways to pray just as many are finding new ways to beat the boredom of "staying home," by dancing, singing, gardening, cooking, and doing art work." I invite you to share with us your creative ways of praying as a family. Please share a photo or video (one minute and under) that others can see and be inspired. You can email them to Jim, our Director of Communication at [email protected] by April 12th. (Easter Sunday). This program is called "Inspire to Pray."
Due to the extension of the 'stay at home' orders to slow the spread of Covid-19, we will still be livestreaming our 11 a.m. Sunday Mass at our website at stjohnviera.org. For the Triduum celebrations we are all invited to join our Bishop John Noonan as his Masses will be livestreamed from St. James Cathedral in Orlando. We will make this available to you at our website. You don't have to go anywhere other than our own website at stjohnviera.org.
The Following are timings for the Holy Week Celebrations:
Palm Sunday, 5th April 2020 Mass at 11 a.m. from St. John's. It will be followed by an hour of Adoration and Benediction.
Wednesday 8th April 2020 at 6:30 p.m. for the Chrism Mass from St. James Cathedral, Orlando.
Holy Thursday, 9th April 2020 for the Mass of the Lord's supper at 7:00 p.m. from St. James Cathedral, Orlando. We will also have Adoration of the Blessed Sacrament livestreamed from St John's Church from 9 p.m. to 12 midnight.
Good Friday, 10th April 2020 for the Passion of our Lord at 3:00 p.m. from St. James Cathedral, Orlando. We will livestream the Stations of the Cross from St. John's Church at 6 p.m. on Good Friday.
Holy Saturday, 11th April 2020 at 8:00 p.m. for the Easter Vigil from St. James Cathedral, Orlando.
Easter Sunday, 12th April 2020 at 11 a.m. from St. John's.
I will be back with you after the Easter Celebrations. Meanwhile know of my prayers for you as you join our Lord Jesus in these days of trepidation and fear only to live as people of hope in the power of the Resurrection.
Special thanks to you for continuing to support our parish through online giving or mailing in the envelops or dropping them off at the parish. Your love shines forth!
Be safe and healthy!
With love
Fr. John
Inspire to Pray!
We at St. John's want to know how you pray during this Quarantine!
Send us a photo or video 1 minute or less of how you pray and we will include it in a video called "Inspire to Pray", inspiring others to pray at home in new and unique ways!
Email your photo or video to us at [email protected]
by April 12th. (Easter Sunday)
Consecration to St. Joseph
Program material on the new Consecration to St. Joseph program, sponsored by the Marian Fathers is available at their website,
www.consecrationtostjoseph.org/.
We are conducting on-line group meetings during the 33 days since we are unable to meet in person. Our first meeting will be held on Monday, March 30 from 7-8:30 p.m. at
https://join.freeconferencecall.com/9119.
You can use your computer and microphone to speak with the other participants or call in by telephone. The telephone number is 978‐990‐5000 and the conference access code is 775654# . The other meetings will be held on the following four Monday evenings, with the final meeting on Consecration Day, Friday, May 1st.
Watch Live Sunday Mass
To watch a recording of our Sunday mass, click the play button on the video above. Visit our website live at 11am on Sundays to watch our Masses Live. You can watch our 11am Sunday Mass live directly on Facebook by clicking here.
Fr. John's Divine Mercy Radio Interview
Prayer against Coronavirus (Inspired by Psalm 91):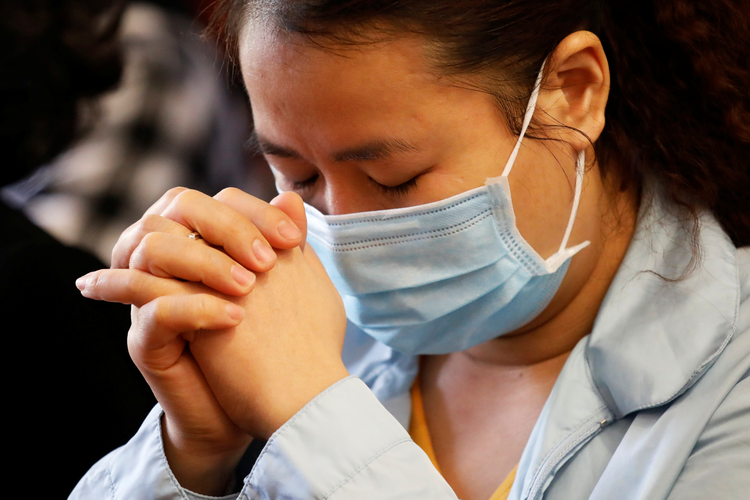 Gracious and Loving Father in heaven, our refuge, our stronghold, and fortress, our God in whom we trust. We come to you imploring your loving intervention at the outbreak of the novel Coronavirus and its crippling effects on our lives. We sincerely trust that you will rescue us from the fowler's snare, and from this destructive plague, and that your faithfulness will be our protecting shield. You have assured us that we shall not fear the terror of the night nor the arrow that flies by day, nor the pestilence that roams in darkness, nor the plague that ravages at noon. You invite us to cling to you and to call upon your name in times of distress. Command your angels to guard us in our ways, lest we become targets of this debilitating virus.
Please do not be mindful of our failures and shortcomings, but in your merciful love protect, heal and deliver us from this present predicament. We ask this through our Lord Jesus Christ, Your Son, who lives and reigns with You in the unity of the Holy Spirit, one God, forever and ever. Amen.
Office Hours
Monday - Friday
08:00am - 5:00pm
Church Address
5655 Stadium Parkway

Viera, FL 32940
Contact Us
Email: [email protected]
Phone: (321) 637 9650
Fax: (321) 637 9651
Clergy
Parochial Vicar

Permanent Deacon

Permanent Deacon

Permanent Deacon